You can make money by selling Compassion Fashion products!
It's easy to make money with your website, blog, or email, by becoming a Compassion Fashion affiliate! It's free to join, and you make 20% of every purchase made by customers you refer to my shop.
First, sign up as a CafePress Affiliate™. You'll be assigned a PID.
Then, just add links to your site, blog, or email, like this:
<a href="http://www.cafepress.com/compassionshop?pid=PUTYOURPIDHERE">Shop at Compassion Fashion</a>
For more sales, use one of these banner ads. Right-click on the banner to save a copy on your computer to put on your site, and use the code given. Be sure to put in your PID!
728 x 90 pixels

<a href="http://www.cafepress.com/compassionshop?pid=PUTYOURPIDHERE"><img src="compassion728x90.jpg" width="728" height="90" alt="Buy unique gifts for animal lovers at Compassion Fashion."></a>
468 x 60 pixels

<a href="http://www.cafepress.com/compassionshop?pid=PUTYOURPIDHERE"><img src="compassion468x60.jpg" width="468" height="60" alt="Buy unique gifts for animal lovers at Compassion Fashion."></a>
234 x 60 pixels
<a href="http://www.cafepress.com/compassionshop?pid=PUTYOURPIDHERE"><img src="compassion234x60.jpg" width="234" height="60" alt="Buy unique gifts for animal lovers at Compassion Fashion."></a>
125 x 125 pixels

<a href="http://www.cafepress.com/compassionshop?pid=PUTYOURPIDHERE"><img src="compassion125sq.jpg" width="125" height="125" alt="Buy unique gifts for animal lovers at Compassion Fashion."></a>
120 x 240 pixels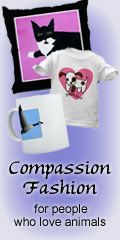 <a href="http://www.cafepress.com/compassionshop?pid=PUTYOURPIDHERE"><img src="compassion120x240.jpg" width="120" height="240" alt="Buy unique gifts for animal lovers at Compassion Fashion."></a>
120 x 90 pixels
<a href="http://www.cafepress.com/compassionshop?pid=PUTYOURPIDHERE"><img src="compassion120x90.jpg" width="120" height="90" alt="Buy unique gifts for animal lovers at Compassion Fashion."></a>
120 x 60 pixels

<a href="http://www.cafepress.com/compassionshop?pid=PUTYOURPIDHERE"><img src="compassion120x60.jpg" width="120" height="60" alt="Buy unique gifts for animal lovers at Compassion Fashion."></a>
88 x 31 pixels

<a href="http://www.cafepress.com/compassionshop?pid=PUTYOURPIDHERE"><img src="compassion88x31.jpg" width="88" height="31" alt="Buy unique gifts for animal lovers at Compassion Fashion."></a>