Cheerful chickadees brighten winter days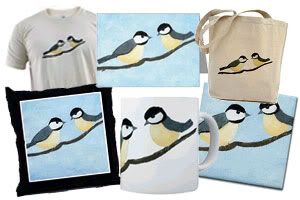 Here in Canada, I can count on chickadees to brighten up the long cold winter.
Top left: This organic cotton Chickadees t-shirt is soft against your skin—great for winter layering.
Top center: Get caught up on your correspondence with these cute Chickadees notecards (blank inside).
Top right: This Chickadees tote bag is an environmentally friendly way to carry your groceries, library books, and whatnot home.
Bottom left: Curl up with a good book and this soft Chickadees throw pillow.
Bottom center: Warm up after a day in the snow with a Chickadees mug full of hot chocolate!
Bottom right: To rest your mug on, a matching Chickadees tile coaster.
Not quite what you had in mind? Shop for more chickadee gifts, more bird gifts, more wildlife gifts in the CafePress Marketplace.